The 2022 Larimer County Annual Family Preparedness & Safety Fair for Northern Colorado will be on Saturday, October 8th at The Ranch in the Thomas M. McKee 4th Building, 5280 Arena Circle in Loveland from 10 am to 2 pm. This fair is free and open to the public!
This year's fall-themed Family Preparedness & Safety Fair will have over 30 life and fire safety vendors with information booths. The public will be able to tour emergency vehicles, participate in free safety classes conducted by the American Red Cross, partake in raffles to win prizes, carve pumpkins at pumpkin carving stations, as well as join other fun children's activities! A pumpkin sale will also be available by Bartels Farms.
This Family Preparedness & Safety Fair will be presented by Emergency Management, Emergency Response, and Emergency Services agencies throughout Northern Colorado to promote community preparedness and safety for our communities. Join us in celebrating the robust community we have in Northern Colorado and the service that emergency-related agencies perform to keep our communities safe and better prepared for emergencies!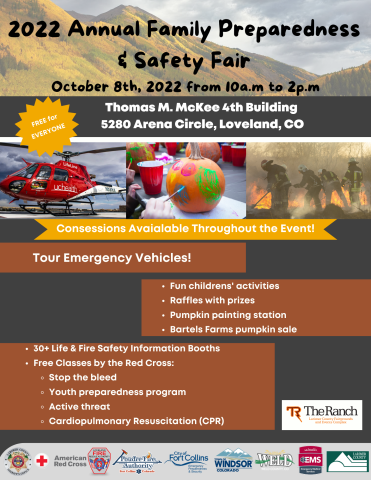 https://www.larimer.gov/events/emergency-management/2022-annual-family-preparedness-safety-fair-2022-10-08